The Technical Directorate – Presentation
The Technical Directorate's Organizational Structure
The Technical Directorate's Organization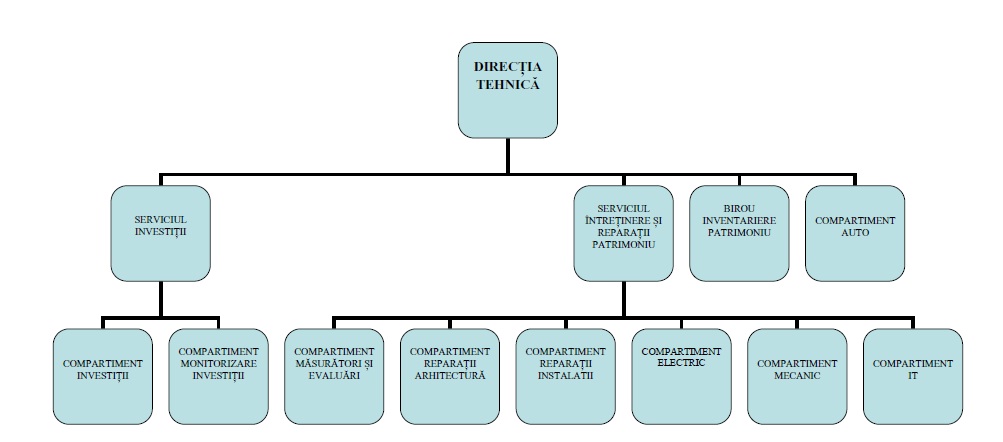 The Technical Directorate's Manager
- The Investment Service
The Investment Compartment
The Investment Monitoring Compartment
- The Assets Repair and Maintenance Service
The Measurements and Ratings Compartment
The Architecture Repair Compartment
The Plumbing Repair Compartment
The Mechanical Compartment
The Electric Compartment
The IT Compartment
- The Assets Inventory Bureau
- The Fleet Compartment
The activities within the Technical Directorate are coordinated and conducted by personnel trained in economic and technical specializations, contributing to the strategic management and daily life of the University, and fulfilling the decisions taken by the academic authorities regarding the Technical Directorate, through the subordinated services.
The Investment Service through The Investment Compartment and The Investment Monitoring Compartment schedules the achievement of investments, reconstructions, repairs, facilities, purchases of property, procurement of design services and execution works and supervision of investment execution by the project supervisors authorized by the State Construction Inspectorate.
The Assets Repair and Maintenance Service through its departments pursues the effective exercise of maintenance and repair works executed overhead, of the buildings owned by the University of Craiova and of the IT activities representing: design and maintenance of networks/servers, repair and maintenance of the IT equipment, installation of software packages (operating systems, drivers, specific applications, electronic programs, antivirus programs), data recovery/migration operations, electrical equipment and appliances repair, air conditioning repairs, repairs and maintenance of the fixed line and mobile networks.
The Assets Inventory Bureau organizes and coordinates the annual inventory of the entire assets of the University of Craiova and seeks to exploit its results in the accounting work, in the scrapping and the downgrading of goods and in the completion of contracts for the temporary rental spaces available, located in the University of Craiova's assets.
The Fleet Compartment manages the car park of the University of Craiova ensuring the maintenance of the vehicles and the track of the vehicles' appointments.