The Rector
Professor Cezar Ionuţ SPÎNU, PhD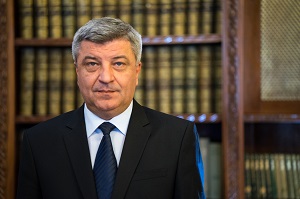 Professor Cezar Ionuț Spînu holds a PhD in Chemistry. He has authored over 100 academic works (books, courses, studies in ISI indexed journals) and was cited for more than 100 times. He has coordinated or has been a team member in 15 research and development grants/contracts. Professor Cezar Ionuț Spînu is a Member of the National Council for Financing Higher Education; Member of the Council of the Agency for Credits and Scholarships for Students; Member of various academic societies; Reviewer for Talanta (SUA), International Research Journal of Pharmacy and Pharmacology. He is an expert with the Romanian Agency for Quality Assurance in Higher Education (ARACIS) for Exact Sciences.
*
The Rector is responsible for the executive management of the University.
The Rector is the main budget administrator of the University.
The Rector takes action to enforce the provisions of the Charter, the University regulations and the decisions taken by the University Senate.
The Rector is deemed liable to the University Senate. The Rector may be dismissed by the University Senate under the conditions specified in the management contract.
Office hours:
Monday: 10-12
Tuesday: 10-12
Contact:
Tel: +40 351.403.145