Campus
Voluntary work Proiecte ASFL Completed Projects
Completed Projects
More Love, No Drugs – awareness campaign for young people in relation to the dangers posed by drugs and unprotected sex;

The "Alexandru Macedonski" Poetry Festival, an event where students from other cities participated as well, by presenting their own creations, with a prize for the best of them being awarded in the end.;

Help Them from the Little You've Got! is a charity project, whose aim was to collect donations for a foster home.
1,2 Step – free modern and classical dancing lessons for all ages, an event which ended with a prize competition;

Literature Colloquia, a set of organized meetings where the students could freely discuss about various literary themes of interest to them, and where they expressed themselves in a prose and poetry competition;

The NGO Caravan, where ASFL got the special prize of the jury, being designated as the most original student association.
International Projects
Trans-European Journey: Breaking Down Stereotypes
This project is the first approved within the programme "Young People in Action", and the first exchange hosted by ASFL. For the organization and development of activities, a part of the project team members brought their personal experience acquired as participants in similar events, in YiA exchanges and trainings.
"Trans-European Journey: Breaking Down Stereotypes" started from a real situation, when during an international training, a Polish participant asked an ASFL member a lot of questions related to Romanians/Romani people, and she pointed out several times that she was astonished to find out that Romania is not a wild and uncivilized country as she had been told.
Thus, the scheduled and developed activities tackled such issues in order to solve them in an informal manner, with the purpose of increasing tolerance and of promoting solidarity among young people, of facilitating cooperation irrespective of one's ethnic identity/nationality and gender, of drawing attention to how the younger generation can get involved in order to become active European citizens.
The activity programme was drafted in cooperation with the Polish partner, when there was an idea to implement the project, which would be then adjusted to the realities in the host country, and to the means of our association. During the preparation period, the project was presented to our partners and approved by them. If it was desirable and possible, they were even asked to chair some sessions.

"IN and OUT of the EU: Breaking Down Stereotypes II" is the second Young People

Exchange implemented by ASFL, as a consequence of the positive feedback received from the local and international partners in relation to the first completed project, "Trans-European Journey: Breaking Down Stereotypes". This Young People exchange actively involved 35 young people from Italy, Greece, Germany, Turkey, Norway, France and Romania for 6 days in Craiova. They took part in activities related to stereotypes, discrimination, in general, and discrimination against Romani people in particular, the equality of opportunities from a cultural, historical point of view, and the rights of man. The main purpose of the project was involvement, the active participation and cooperation among the participants in the European and non-European countries. The project also aimed at the participants' personal development, providing them opportunities of intercultural learning and awareness, of acquiring new development skills and abilities, multilingualism and participatory interaction.

The activities were based on informal education, on a learning and training process which will function outside the routine of formal education. It was based on learning through participation, by taking into account the young people's needs and interests. The methods used along the 6 days were: audio/video presentations, group discussions and brainstorming, simulations and role-play, study visits, case studies and cultural visits.
Your Life Matters: STOP Smoking! – the third student exchange organized by ASFL,

focused on a controversial issue of the 21st century: the negative effects of smoking on our health and the environment. We attempted to raise the awareness of the involved students and our local community, through informal means and activities which took place in Craiova for 10 days.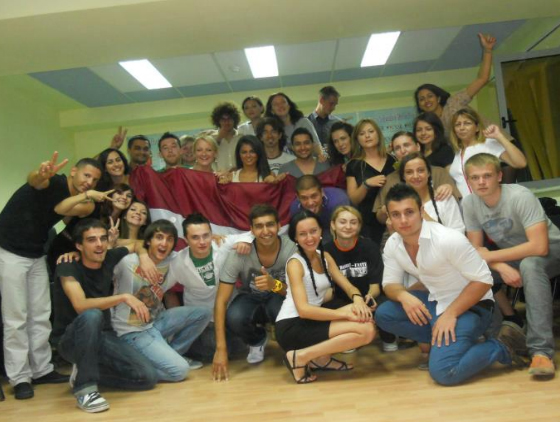 This time there were 49 participants from 9 European countries: Romania, France, Italy, Poland, Latvia, Cyprus, Malta, Spain and Portugal, who were involved in a series of outdoor activities (tennis, badminton, football, rollerblades, dancing, martial arts, tae-bo), as a substitute for smoking; a street activity was also prepared and a public conference in order to draw the citizens' attention to the effects of this vice.