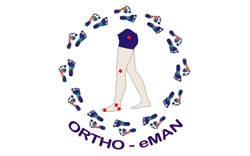 Project acronym: ORTHO-eMAN
PROMOTER: University of Craiova - Romania
COORDINATOR: Dorin Popescu, Faculty of Automation, Computers and Electronics
Period: 1.01.2012 – 31.12.2013
Partners:
P1 - NATIONAL CENTER FOR SCIENTIFIC RESEARCH "DEMOKRITOS", Grecia
P2 - Biomechanics Institute of Valencia / Instituto de Biomecánica de Valencia, Spania
P3 - CLINICAL EMERGENCY HOSPITAL BUCHAREST / SPITALUL CLINIC DE URGENTA
BUCURESTI, Romania
P4 - DEMOCRITUS UNIVERSITY OF THRACE, Grecia
The main objective of the project consist in developing of a web-based e-training platform which is interprofessional in outlook, interdisciplinary in approach, intercultural in background, interactive in design and international in scope. The project's Internet training platform provide a repository of training material with real clinical case studies using digital imaging and accompanying notes, an interactive multimedia database system containing full reports on patients receiving orthopedic treatment.
The main outcome is a Virtual Training & Communication Center ORTHO-eMAN for innovative education - on-line education and training material accessed via a standard web browser, which provides an integrated on-line learning environment. It will be used as a method of dynamic distribution of course information, but with innovative and more interactive uses, by including a lifelong learning platform consisting of three main components: (a) E-Learning, (b) E-Communicating and (c) E-Mentoring.
Website: http://www.ortho-eman.ro/